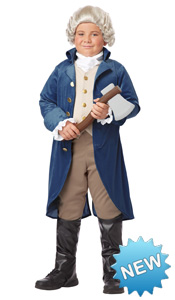 George Washington's birthday is on February 22th! If you want to celebrate our Founding Father's birthday or President's Day (which is on February 20th), you can wear one of George Washington's classic Early American costumes to become the great historical American legend. George Washington is one of the most popular heroic political leaders in the history of the United States. Due to the significant influence and role he played in the formation of the United States, President Washington is commonly referred to as "The Father of His Country." His reputation as a legendary American hero is the reason why President George Washington costumes are an endearing favorite with both children and adults who want to celebrate patriotism. This will also make a great Halloween costume this year! If your child wants to dress up as America's first president, here are some suggestions on how to complete his early American outfit and look! President Washington's outfit of his time was described as simple formal attire, consisting of a long white linen shirt which was tucked into tight-fitting knee britches. Over this, he wore a velvet waistcoat and long colonial jacket which was considered essential men's wear for the period. On his feet were long white men's stockings and a buckle-type shoe. Finally, the ensemble was completed with a velvet topcoat and a colonial tricorn hat. And of course, all gentlemen in the eighteenth century wore white powdered wigs. So what do you need to create a George Washington costume for your child?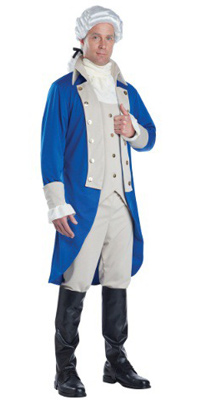 First, you will need breeches. Breeches are trousers that end just below the knee. For this, you can buy your child a pair of any dark colored riding pants that you can roll up to the required length. Or any type of dark pants can do; just sew up the cuffs of the pants up to the knees. Then wear long white athletic socks or stockings underneath the breeches to complete the bottom half of the costume. For the linen shirt you can buy a shirt with frilly lace in front or take any ordinary white shirt and sew ruffles in front. Over the shirt you will wear the waistcoat. For waistcoats you can use any dark-colored vest which will be worn on top of the white shirt and buttoned but not tucked in. Finally, complete the costume with a dark jacket, which can be worn open or buttoned halfway, leaving the bottom buttons undone.
To finish the costume, you will need to accessorize it with a white wig, a three-cornered hat and black shoes with buckles. The first two can be bought at any costume shop or can be made from paper. To make a wig from a paper bag, cut the bag in such a way that it forms bangs across the forehead and covers the ears and back of the head. Paint the bag white and when the paint dries, stick cotton balls on it to make it look like hair. Then, add a bow to the back of the wig to give the illusion of a ponytail.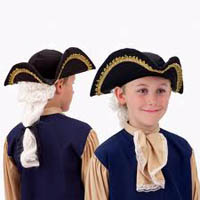 To make a tri-corn hat you will need black construction paper. First cut out a large circle to make the brim; make sure it fits the head of your child. Then cut a smaller circle to serve as the top of the hat. Cut four smaller pieces from the circle to form flaps. Shape the circle to make a cup shape then tape the flaps to the brim. Finally, bend the edge of the brim, starting from the front and moving clockwise until the entire brim is bent. To hold the shape, stick pieces of fishing line from the sides to the inside of one of the folds.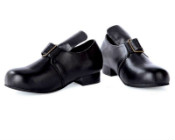 To make shoes similar to those worn in colonial times, you can use any pair of black shoes; just attach buckles to them which can be bought inexpensively from any costume shop. You can also make them using cardboard painted silver or gold. Just cut out a rectangle shape, then remove the inside, leaving only the outline. If you are short on time, we recommend that you shop for the best bargains on colonial costumes and accessories. Here are some great George Washington Costume ideas for kids or adults. Remember, President's Day is on Monday, February 20th!

Child Colonial Hat with Wig

This child size American colonial hat with attached white hair will make a good costume accessory for a Washington costume. One size fits most children. If you need a larger size, there is an adult size version available here.

---
Colonial Jabot & Cuffs

Give your costume a more fancy colonial American look with this lace trim white ruffle jabot and matching cuffs.

---
George Washington Heroes in History Kit

This costume accessory kit for kids includes a white colonial style wig and collar jabot. This would make a great accessory to the costume above this listing. One size fits most children.

---
Adult Colonial Shoes

This perfect pair of black colonial shoes that will complete your Early American costume.

---
Deluxe Colonial Tricorn Hat for Men or Teens

Accessorize your traditional President George Washington costume with this deluxe colonial black tricorn hat with gold trim for adult men or teens.

---

George Washington was the first president of the United States, and that unique honorable distinction made him in a remarkable position that no man can ever take back. While leading the country he juggled his position as the leader of the continental army to wage war in the American Revolutionary War. It is said that he is the one responsible for the strong sense of nationalism in every American, and for that he deserves the title "Father of Our Country". He had conquered battles in Boston and New Jersey in an attempt to reclaim what was his to rule over. He was not only a good battle strategist, he was also known for his negotiation skills, while made him friends with the French government. It was his leadership that brought strength to the Philadelphia Convention and eventually led to the creation of the constitution that every citizen of America is thankful for.
Although President George Washington has pass away many generations ago, his legacy still lives on in the hearts of Americans today. You can honor his history by dressing up as this historical figure for Halloween with one of these colonial costumes. Choose an Early American outfit that is compelling by browsing throw our list of wonderful George Washington costumes for kids and adult men. President's Day is on Monday February 19th so don't hold off to long to get your right outfit for the patriotic celebration!

If you and your children want to learn more about our legendary President George Washington, we recommend these museums.
Location:
George Washington Masonic Memorial
101 Callahan Dr.
Alexandria, Virginia 22301
(703) 549-9234
Location:
Museum of George Washington
50 Lester St.
Columbiana, Alabama, 35051
(205) 669-8767